Plex is a piece of software that allows you to stream media from your PC to your TV, tablet or smartphone device. I've been waiting for any software that would do this every since I bought my Roku. It was the one thing the Roku was lacking. I'll break this review down into 3 sections.
Plex Media Server
As the name applies, the Plex server will serve your files from a computer or server to your other devices. First you will need to install the free Plex server software from the link above
on a PC. Chose download Plex media server from the right side. Once you've downloaded and installed the server, you'll need to add items to the server. For anyone that hasn't used similar software this may be a bit tedious You can figure it out after clicking around a bit. I've notice sometimes the wrong DVD cover is displayed, which can be corrected in the server software.
Screenshot of my Plex media server.
Plex Roku
The Roku allows you to view your media on your TV. Just browse your channels within Roku and add Plex to your list. Within the app you have the ability to add other channels as well. I've watched several movies on my Roku and playback is smooth. I even have it installed on a desktop connected to my wireless network. If you have a Roku, this channel is definitely worth adding.
Plex Android
The Android app allows you to view you media on your smartphone or tablet. The app cost $4.99 from the Google Play store or Amazon app store (if your using a Kindle Fire). Just like on the Roku, you can add channels from the app. The app is pretty simple and easy to use, pick a movie and enjoy.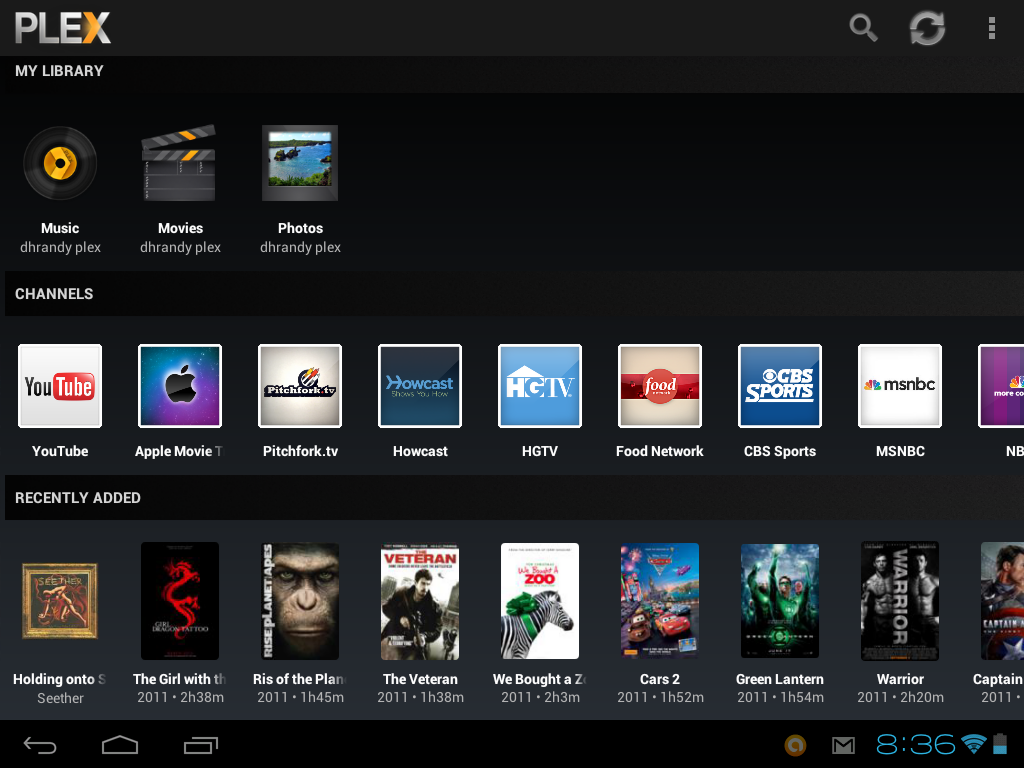 Plex on my HP Touchpad running Android ICS