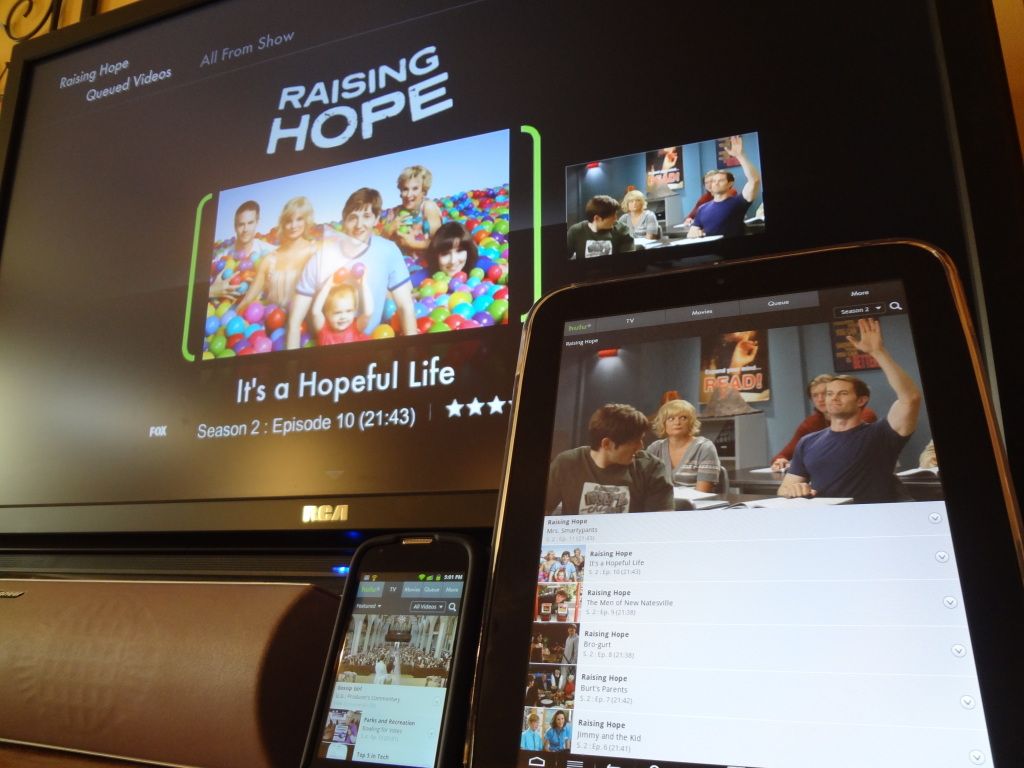 Products:
Roku XD - Streams great in HD over wireless.

Nintendo Wii (Not Pictured) - Great for standard or 480P streaming.

LG Venice

HP Touchpad Tablet running Android - Downloaded and installed APK. Not officially supported.

Kindle Fire 1st Edition

Nintendo 3DS - Coming Soon.
Hulu Plus has to be my new favorite and most used services. I use it on my Android Smartphone, HP Tablet running ICS, Kindle Fire, and Roku. You can watch many programs free using the Hulu website on a laptop or desktop as well. The downfall with the free service is that you can only watch the last 5 episodes. Due to licensing issues by the studios, you need Hulu Plus to view the service on smartphones and other devices including the Roku. The good news is that Hulu Plus is only $7.99 a month and you can cancel at any time. The other advantage of Hulu Plus is that you get to watch more than just the last 5 episodes of many programs.
I use Hulu Plus the most on my Roku XD streaming box. The menu is easy to navigate and use and found that it's easier to add and search TV shows using the website. You can add your favorite TV shows and it will show the latest episode in your queue on your devices.
The only major network that isn't on Hulu is CBS. So you'll miss out on Two and a Half Men, Big Bang Theory, How I Met Your Mother and others. You also won't find some major cable channels including Discovery Channel, History Channel, A&E, and some others. Go ahead and give it a try, you can cancel if you don't like it.
My son loves to scan the animations section and watch Yu-Gi-Oh! and other cartoons.
Favorite Shows:
The Finder (Cancelled)
Whitney
New Girl
Raising Hope
Last Man Standing
Touch
Alcatrez (Cancelled)
Awake (Cancelled)
Tosh.O
Who Do You Think You Are
Prison Break (finished the final season)
Outsourced (1 season) (Cancelled)
What do you watch on Hulu?